It's time to press play
With many companies having taken grants and loans, now is the best time to plan and budget for your post Covid19 marketing.
Life can't go back to normal, it can only move forwards, so your marketing, like all other areas will need to adapt and grow.
How Will Marketing Adapt?
We believe marketing spend will move away from customer acquisition and skew heavily towards engaging existing customers. This is because they are likely to generate the most reliable, immediate profits.


So let's take a look at what moving to targeted Customer Relations Marketing (CRM) might look like.

Marketing will need to become more personalised, fully engaging the customer. Moving away from mass mailings, marketing should be event triggered. Focusing on cross selling to existing customers and converting interested leads into loyal, repeat customers. This will work as an email, but the tangibility of direct mail will help cut through the hours of screen time your customers may have been facing.
Personalised print can come in many forms; a postcard with an incentive, luxury brochures for top tier customers, birthday offers and more. These are cost effective and easy to create at short notice.
The Data & Marketing Association
reported that by using direct mail, customer response rate increased by 43% and almost 40% of people say they display direct mail they have received (Royal Mail).
Not to say other sectors should be ignored. Companies have seen a huge Social Media boost during lockdown, this has pushed them to improve that touchpoint, becoming more useful, authentic and visible. Use this to co-ordinate your campaigns, reinforce your brand on social media during your direct mail campaign.
With any recession or similar conditions there comes the rebound, people are relieved and hopeful and ready to spend. The most successful marketing will run cross channel, aligning direct mail with email marketing, social media and display advertising. Those who use their time now to engage should reap the biggest benefits.
Below are a range of ideas to engage existing customers and leads who may not have converted yet.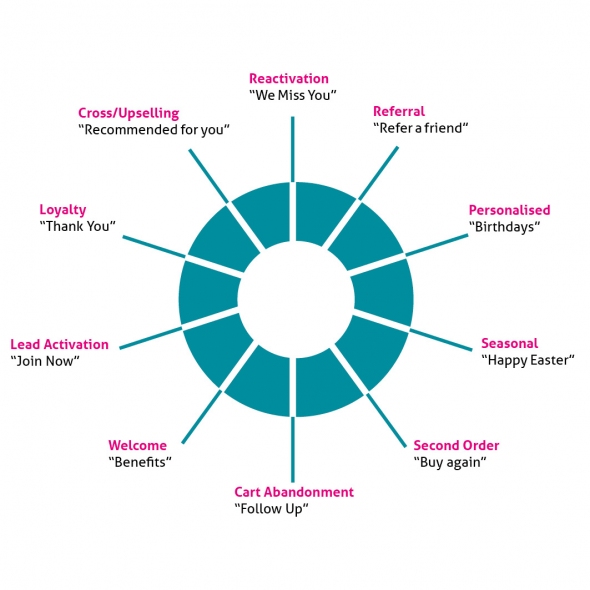 Why use Direct Mail for these?

Now of course, email may be best for cart follow ups, and buy again offers but for the rest, direct mail is perfect. For example "refer a friend", an email is great but unless used on opening is likely to be forgotten. A physical voucher on the the other hand will be stuck to a fridge or popped in a purse for later use. If you run a cafe it may be the difference between someone choosing you or not. Knowing they can pop in and grab a coffee half price using the voucher makes it much more tempting!
Let's have a look at some of the facts



24% of people value something they can touch over just a visual like an email (Royal Mail).

With post down by over 2% on last year, your marketing has a better chance of standing out.

Since direct mail is tangible, it hangs around. More people are likely to see it than just the recipient

Email is easy to forget about because it's just a number on a screen, but mail is unavoidable.

Even without personalisation direct mail has 29% median ROI (marketingcharts.com)
Other things to think about

As businesses re open, customers will want their concerns taken seriously. Yes, there will be sales to remove stock that hasn't sold during lockdown. But after that we believe people will be far more willing to pay a premium to feel safer and also know staff are well treated.
Treating customers concerns as valid will need to be addressed. Whether this is social distancing in restaurants, non contact deliveries or increased cleaning procedures, make sure you show them how much you value them.